Life ~ Death ~ Testament
This project is both an offer for you as well as a personal journey with my own Symbolic Testament.
Iwona's Symbolic Testament
~ ~ ~
I want this page to develop with me and time. With time also pointing to other (external) artifacts/media/real encouters.
Seeing Life as preparation for Death can start at any point in one's life. My exploration of it – designing my eternal farewell, designing my life – is in itself a Ritual.
(my Ritual officially started this year'22, at my 40th birthday party and unofficially much earlier of course).
The project is therefore also an invitation for you to create your own ritual. When you're ready.
This page is also a window to the analog world. Through this page you'll know where to find me so I can be your facilitator in group workshops/rituals and in private sessions/encounters.
What is on the horizont these days is a coming workshop 5th March'23 in Copenhagen. You can still sign-up.
Another focus is creating a short film about the project. I've gathered some materials from previous workshops. I have still not picked my filmmaker.
The next workshop/ritual takes place 5th of March 2023 in Copenhagen.
(click below and sign-up)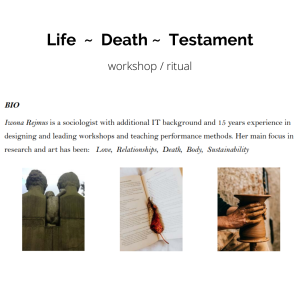 Dimmed lights, I mean, suede turquiose pillows, soft carpet that makes one wanna live and love.
She then lied down on this black carpet.
With my hands, I prepared her body … for transition.
I lit the candle.
Her candle and Her golden nail behind her head crown.
I covered her all, her face last.
I let her be where I was not, her Time was ticking different than mine.
After Time, I uncovered her slowly
… so she could, so alive, take a distance to herself.
She was standing there, looking at Her from that Time some whiles ago when she was lying fully covered, her candle burning.
Then she spoke.
" I want to thank everyone who came to my funeral (…) "
I listened, I witnessed.
Then when She finished the speech, I took three breaths and started to write what I had heard.